I had learned by this point in the expedition that I should not even attempt to ride more than 50 km a day. A 30 km day yielded enough impressions, encounters, and food for thought to last for several more days. And then there were the hills, which were more like the Green Mountains than my flatlander home terrain of northern Germany. So as I left Geisa, I was planning on a leisurely 35 km day, which I knew would include at least one serious 3-km climb.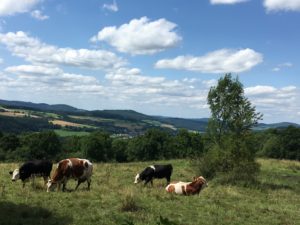 The landscape now had a more open feel to it: the valleys were more sweeping, the hills more gentle – though still a serious workout on the way up. I was in the Rhön region now, a central German mountain range south of the Harz mountains that covers parts of three federal states – Hesse, Thuringia, and Bavaria. Its central region was declared a UNESCO Biosphere Reservation in 1991.
This designation specifically addresses the interplay of nature and culture. It introduces three zones of human presence, with a core zone (a modest 2.5 % of the total area) closed to agriculture and forestry; a care zone where these activities are limited to particularly gentle methods; and development zones – the areas around the existing towns and villages.
Gentle hills or not, the 3-km stretch up to the Rhön's main ridge turned out to be too much to ride with a fully packed bike. As I was pushing my way up, trying to remember to enjoy the sweeping views, I noticed a clear sign that agriculture is part of this biosphere reservation. The sight of the green John Deere tractor put a big smile on my face, the way the "Welcome to Vermont" signs do when I return to my second home from somewhere else. (In case the reference to Vermont is not obvious – John Deere was born in Rutland, VT, and learned the blacksmith trade in Middlebury before he moved to Illinois to make his literally ground-breaking invention of the plow that could cut through the tough prairie soils. You can see a commemorative plaque for him on the small green in Middlebury above Frog Hollow.)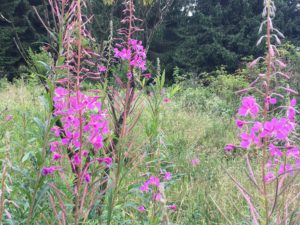 As I waited for the promised views from the wooded plateau I finally reached, my path took me right along the Green Belt, which was ablaze with fireweed. Fireweed is a colonizer of open areas and often pops up after clearcuts (as was the case here, when the border strip was cut through the forest) and fire. I only recently learned that it was also known in Germany as "Trümmerblume" (rubble flower) for a while after World War II, when it spread in urban areas flattened by bombings.
The sweeping views finally appeared, as did a seemingly endless downhill ride. Coasting across the Green Belt into Thuringia ("the east"), I kept my eyes out for a lunch spot and realized that I needed to figure out where I was going to stay for the night – the sun was already starting on its path west. What I was craving more than lunch was a cup of tea, so when I spotted a sign for "Gaststätte Schweinebucht" in the small village of Frankenheim, I saw my opportunity. I also wanted to find out what was behind the name – Schweinebucht means Bay of Pigs in German.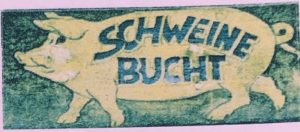 Apparently I was not the first guest to ask – the friendly server pointed me to the first page in the menu, which told the story of the place and its name. There was no Cuba connection as far as I could tell, but there had indeed been pigs at this place some thirty years ago, along with cows and sheep, providing their owners Harry and Rolf with some extra income. Then the border opened, the farming business went downhill, and Harry's and Rolf's wives lost their jobs. The four of them brainstormed and decided to open up a beverage and ice cream shop – and soon discovered that their customers wanted more. So they expanded the building (now the pastel pink paint made sense!) and added a deck, on which I was now sitting with my cup of tea and a piece of homemade cake that proved that the two couples were in the right business.
Great example of people discovering their creativity during a time of challenge, I thought to myself. But another hour had passed, and I still had no place for the night. I called ahead to three places in Fladungen, the town I was aiming for – no luck, but no reason to worry. There were still several hours of daylight and several more small towns past Fladungen. And amazingly, the long downhill continued for several more kilometers.
Fladungen looked lovely, and I had hoped to visit its open-air museum – but I mustered all my discipline and called more B&B's instead, mostly to leave messages. It was a lovely summer evening, so I stocked up on water and snacks at the Fladungen grocery store and continued – up a long hill. And through a forest where the bike path petered out and I continued on a hiking trail, since I could not get myself to turn back. I emerged from the woods in a very tiny village, which turned out not to be the one I had expected, once I had found a human being to ask where I was. I checked my phone for messages – no cell phone coverage. A Funkloch! I mustered a tired smile and told myself that there was no need to get into a funk yet – there was still some daylight.
The next village seemed not so lovely somehow, but by now I had set my sights on another one anyway – Henneberg, which I had not expected to reach until the next day. But I had submitted an AirBnB request for an "old forestry house" there before I entered the Funkloch, and could probably reach it with the remaining daylight now.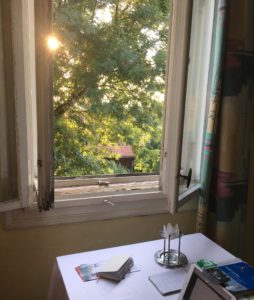 So it happened that my 35-km day turned into a 65-km one, and that I came to spend time in the fantastic "German Unity Sculpture Park," and to poke around a breath-taking old castle ruin, and to visit a house where the poet Friedrich Schiller had once sought refuge and stayed for a seven-month writing retreat. And that I had a makeshift desk for myself in the very rustic, borderline ramshackle "old forestry house," with whose owner I had finally managed to communicate once I was near a cell tower again.