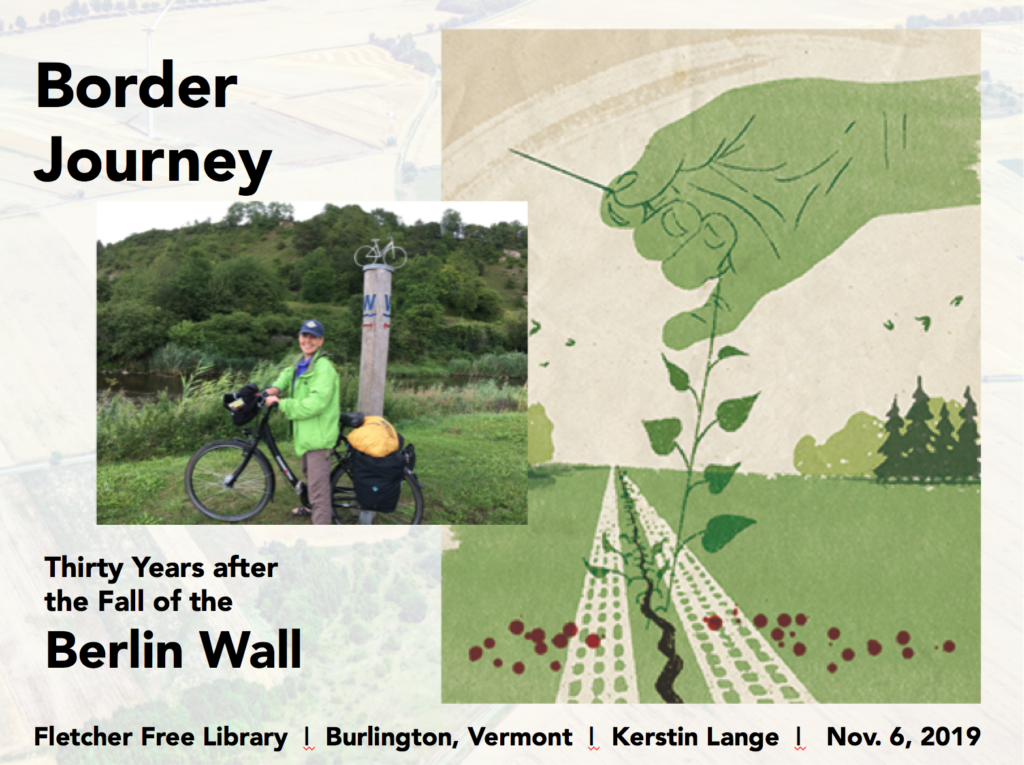 How do you reconnect with your home country after living an ocean away for more than half your life? If the country is Germany and you like to travel by bicycle, you embark on a border journey. At least that's what I did…
You are invited to a presentation about my expedition at the Fletcher Free Library next Wednesday, November 6, at 6:00 p.m. (upstairs in the Fletcher Room).
Here's a brief overview of what I will be talking about:
When the Berlin Wall fell under the pressure of peaceful protests on November 9, 1989, the highly fortified nearly 900-mile-long border strip that separated East and West Germany also lost its purpose. Less than a year later, in October 1990, the two Germanys became one nation again. The two events often get conflated in retrospect, but was reunification really the necessary outcome? What led to the fall of the Berlin Wall in the first place, and how might an understanding of that history be relevant today? What was life like for the people who lived close to the border? What became of the once deadly border strip? Did the reunited Germans live happily together ever after?
During my journey, I spoke to people on both sides of the former border. I learned about the grating restrictions on life in the East German borderland, about failed, deadly and successful escapes, and about creative ways in which people pushed the envelope of their repressive regime. I met with former border guards from both sides who gather regularly to work through the history of their border section together. And I spent a day in the field with the man who, as an astute 13-year-old in the 1970s, noticed the remarkable biodiversity in the border strip and has worked tirelessly to preserve it as a national monument of nature.